Lysine Paste for Cats and Kittens
---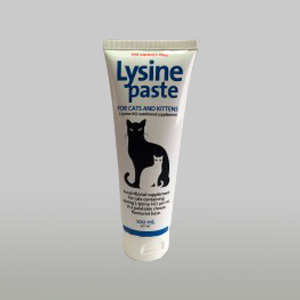 Cats
Product Information – Download Lysine Leaflet
MSDS – Download Lysine MSDS
Registered Name – Lysine Paste for Cats and Kittens
Composition – L-lysine HCL,
Actions
Feline Herpes Virus FHV-1 is a virus common among domestic cats and kittens.  L-lysine at 250mg twice daily reduces viral shedding.  Symptoms include
eye and/or nasal discharge
Lysine Paste is formulated in a palatable cheese flavour.  Lysine Paste can be used when episodes occur or can be given on a daily basis to reduce the severity and amount of episodes.
Relieves the symptoms of Feline Herpes Virus FHV-1
Dosage & Administration
Squeeze tube and administer a 2cm strip to cats paws.  Allow cat to lick product off paw.  Lysine Paste can also be added to feed.  Daily administration will reduce the likelyhood of an episode.
Presentation – 100mL tube
Storage – Store in cool place away from extreme heat or cold and direct sunlight.