Scour-X Oral Anti-Diarrhoeal Suspension
---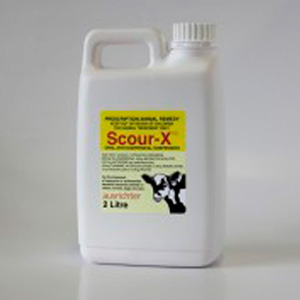 Cattle, Dogs (Household), Equine Health (Racing)
Product Information – Download Scour-X Leaflet
MSDS – Download Scour-X MSDS 
Registered Name – Scour-X Oral Anti-Diarrhoeal Suspension
Composition – Sulfadiazine, Sulfadimidine, Neomycin Sulphate
Actions
A proven combination for treatment of bacterial diarrhoea. Neomycin is effective for treatment for E.coli bacterial infections. Sulfadiazine and Sulfadimidine are effective against both E.coli and Salmonella bacteria. Scour-X contains Vitamins B1 & B2 to replenish valuable vitamins depleted by diarrhoea. Sulfadimidime also useful for protozoan infections such as Cryptosporidium.
Dosage & Administration
Once a day treatment. Calves & Horses: 30mL per 25kg bodyweight orally, daily for 3-5 days. Dogs & Cats: 2mL per 3kg bodyweight orally, daily for 3-5 days. Repeat treatment daily until two days after symptoms have subsided. In cases of salmonellosis, treatment should continue for a minimum of five (5) consecutive days.
Presentation – 2L plastic container.
Storage – SHAKE WELL BEFORE USE. INVERT PACKAGE DURING STORAGE TO PREVENT SETTLING OF PACK CONTENTS.
Poisons Schedule – S4
APVMA Number – 49788