Equisedan® Vet
---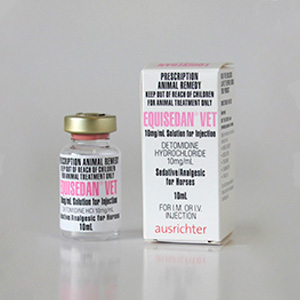 Equine Health (Racing)
Registered Name – Equisedan® Vet
Composition – Detomidine hydrochloride 10mg/mL – solution for injection
Manufacturer – Richter Pharma AG
Actions
Equisedan is a dose contolled equine sedative and analgesic for all indications including visceral pain.
It can be used to fascilitate clinical examinations, X-rays, minor surgical procedures, transports etc., and for the contol of pain, including that of uncomplicated colic.
Equisedan can provide prolonged analgesia (up to 12 hours) for example with accident cases.
Presentation – 10mg/mL detomidine HCL – 10mL multi-dose vial.
APVMA Number – 61880/0109