Hippiron Iron Injection 20mL
---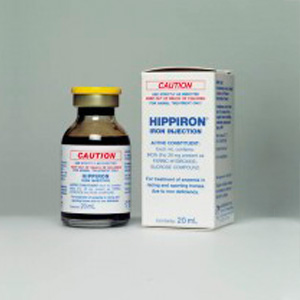 Equine Health (Racing)
Product Information – Download Hippiron Leaflet
MSDS – Download Hippiron MSDS
Registered Name – Hippiron DL No1
Manufacturer – A product of Vifor (International) Inc. Switzerland.
Actions
When injected Hippiron breaks down into carbohydrates and trivalent Iron Hydroxide which is stored in the form of Ferritin (depot iron) in the liver; from there it is transported in the form of ferrin to the site of erythropoiesis (where red blood cells are formed).
Dosage & Administration – By intravenous injection
Foals 10mL (200mg) per week.
Adults & Yearlings 20mL (400mg) per week.
The frequency and length of treatment will depend on the severity of the iron deficiency.
Presentation – 20 mL vial
Storage – Store below 25°C (Air Conditioning).
Protect from light. Do not refrigerate.