Penetrene 'A' Liniment
---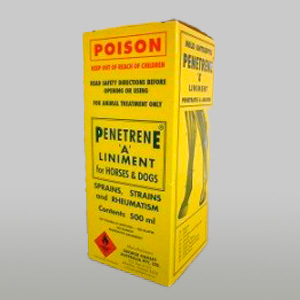 Dogs (Household), Equine Health (Racing)
Product Information – Download Penetrene Leaflet
MSDS – Download Penetrene MSDS
Registered Name – PENETRENE 'A' LINIMENT
Composition – Aniseed Oil 3.7g/kg; Sassafras Oil 2.6g/kg; Menthol 11.4g/kg; Solvent – Acetone 793g/kg
Manufacturer – Jaydee Laboratories Pty Ltd
Actions
PENETRENE leg wash. Apply freely and bandage under cotton wool for two to three hours or overnight. In cases of sprains and strains forment (warm or heat up) the part or area with hot water. Dry thoroughly, stimulate well by massaging. Apply a little PENETRENE full strength. Enough to wet the hair several times, each time working it well in with the fingers and thumb from outside to the centre of the sprain or strain. Apply three times daily for three to four days, then once a day morning and night. Avoid contact with eyes, wash eyes with water to remove PENETRENE wash. Do not inhale vapor. Wash hands after use of the product. If poisoning occurs get to a doctor or hospital at once, urgent medical treatment is likely to be needed. CONTACT Poisons Information Centre, Australia 13 11 26.  If swallowed DO NOT induce vomiting. Give a glass of water.
Dosage & Administration
13mL of Penetrene 'A' liniment
750mL of Water or Witch Hazel
250mL Vinegar
A little saltpetre (potassium nitrate) [only if available]
After workout or racing, sponge the legs and the body
muscles with the PENETRENE wash.
PENETRENE keeps joints, muscles and skin healthy.
Storage
Store below 30°C (room temperature).
Keep out of reach of children.