Richtafort B12 for Cattle
---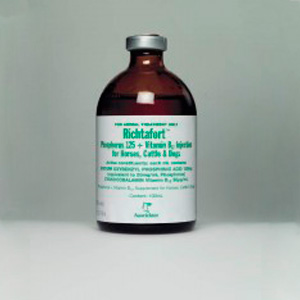 Cattle
Composition – 12.5% phosphorus supplement + Vitamin B12 125mg/sodium-oxybenzylphosphinic acid 50ìg/cyanocobalamin/mL
Manufacturer – Ausrichter
Actions
For phosphorus and Vitamin B12 supplementation.
adjunct therapy for metabolic diseases, milk fever, ketosis, etc.
to increase muscular energy, for performance and recovery.
to help restore appetite following colic, parturition, illness, infection.and surgery.
Dosage & Administration
Cattle: 10-25mL IM or SC injection, into the anterior half of the neck. Every second day or as required.
Presentation – 100mL multi-dose vials
Storage – Store in a shaded cool place.