Triprim for Horses
---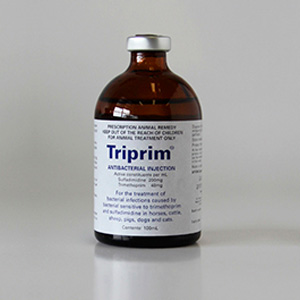 Equine Health (Racing)
Registered Name – Triprim Anti-Bacterial Injection
Composition – 200 mg/mL Sulfadimidine & 40 mg/mL Trimethoprim
Manufacturer – richer pharma ag
Actions
Broad spectrum antibacterial injection – gram positive and negative infections. Long-acting – once-a-day dosage – sulfadimidine + trimethoprim.  Neutral pH injection.  IV injection for Horses.  Crosses blood brain barrier and penetrates the eye.  Resistance is uncommon.
Skin and wound infections
Post-Operative infections
Infections of urogenital tract
Infection of gastro intestinal tract
Bacteria Sensitive to Triprim
Fusiformis Corynebacterium
Dosage & Administration
10 mL per 200 kg bw daily by intravenous (IV) injection only.
Storage
Store below 25°C (air conditioning). Protect from light.
Do not refrigerate. At low temperature crystallisation of the
product may occasionally occur.
This can be reversed by warming of the bottle in hot water.